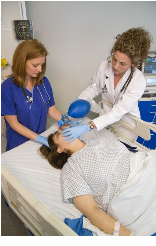 The Lawrence Respiratory Foundation was created to award an educational scholarship to a senior student in the Respiratory Therapy program at National Park College in Hot Springs, AR. The Professional Achievement in Respiratory Care (PARC) scholarship was the brainchild of Gretchen Lawrence, BA, RRT, FAARC, who had a diverse and rewarding career in respiratory care. It is her desire to support and mentor aspiring respiratory therapists in our community.
Respiratory therapists (also called respiratory care practitioners) are important members of the health care team. They work under the medical direction of doctors to treat all types of patients, ranging from premature infants whose lungs are not fully developed to elderly people with lung disease. They provide care to patients with chronic asthma or emphysema, as well as emergency and intensive care to patients with a wide range of serious health issues.
Respiratory care is a professionally and personally rewarding career with a balanced blend of technology and patient interaction.
Characteristics of Successful Respiratory Therapists
Compassion: Respiratory therapists should be able to provide emotional support to patients who are undergoing treatments for serious and often life-threatening diseases.

Critical thinking skills: Respiratory therapists must be able to quickly solve problems, particularly in trauma or emergency situations. The ability to think critically to provide the medical team with rapid and accurate assessments, and provide patients with the appropriate treatment is crucial.

Excellent communication skills: Because respiratory therapists spend much of their time communicating with members of the medical team, patients and/or their families, the ability to communicate well is important.

Organized and meticulous: Respiratory therapists must maintain, use, and manage many types of equipment and administer many types of medications; therefore, successful respiratory therapists are detail-oriented, organized, meticulous, and thorough, ensuring that patients receive the appropriate treatments at all times.
The Lawrence Respiratory Foundation is an all-volunteer organization with 100% of all donations going directly into the PARC scholarship.
July 26, 2021: At the new student orientation , The Foundation awarded PARC scholarships to Dustin Warren and Jessica Fox. Congratulations to both of them. We believe they will set an example for others to follow and have a positive impact on all for whom they care for and work with.
April 16, 2021: the Foundation is proud to announce that we will again be offering two $1,800 scholarships this year. Application packets have gone out to the incoming seniors,. The deadline for submission is June 1st. Winners will be announced during the new student orientation this fall.